Civil Engineering reference books at the Columbus Main Library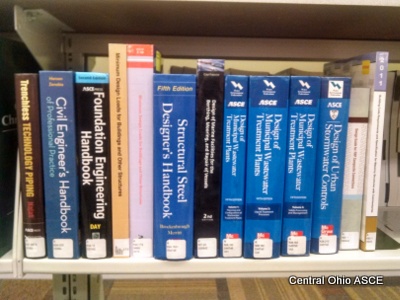 Late last year, the Central Ohio Section bought a number of civil engineering reference books and donated them to the Columbus Library for public use. The titles are as follows:
Minimum Design Loads (7-10)
Design of Marine Facilities for Berthing, Mooring
FRP Composite Connections
Foundation Engineering Handbook
Trenchless Technology Piping
Civil Engineer's Handbook of Professional Practice
Building Code Requirements and Specification for Masonry Structures (5-11 & 6-11
Urban Stormwater Controls
Municipal Wastewater Plants
Structural Steel Designer's Handbook
The books are for reference use and cannot be checked out. They are located on the 3rd floor in a special collection area (North side of building in the half-height stacks).
Many thanks to Adam Rich for organizing this donation.