2016 STEM Expo
Date & Time:
Sat, 03/05/2016 -

9:00am

-

1:00pm
Location:
Thomas Worthington High School, 300 West Granville Road, Columbus, OH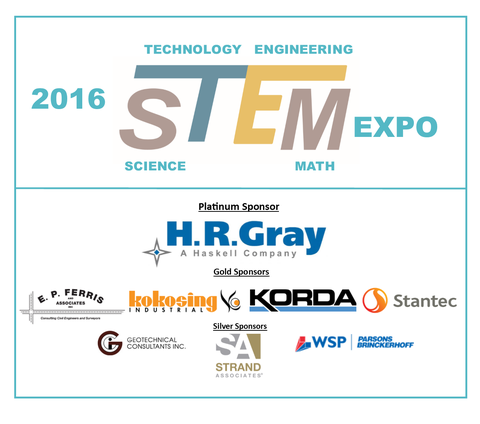 The Central Ohio STEM Expo is a free educational outreach event for students grades K through 8 to explore the world of Science, Technology, Engineering and Math. At the 2015 event, the ASCE Central Ohio Section welcomed 367 students to participate in over 30 STEM related interactive activities and exhibits. The ASCE Central Ohio Section is pleased to announce the 3rd Annual Central Ohio STEM Expo will be held on Saturday, March 5, 2016 at Thomas Worthington High School from 9 AM to 1 PM.
The STEM Expo is an exhibition type event and there is no set schedule. Parents are encouraged to participate with their children in the activities. Older children may be left unsupervised at the discretion of the parent.
Pre-registration
To pre-register a student for the event, complete the Google Form using the following link: STEM Expo Registration Form. Registration will also be available at the door the day of the event but pre-registration is encouraged.
Activity Sponsors
We are seeking local STEM professionals, educators, and organizations to serve as activity sponsors or exhibitors. Sponsoring an activity is easy and a great way to get involved in this educational outreach event. Activity sponsor responsibilities would include:
Developing a fun, interactive STEM related activity;
Obtaining funding through your employer for the activity materials, if necessary; and,
Facilitating the activity at the STEM Expo event (typically 2-3 people needed).
A classic example of this type of activity would be the gumdrop and toothpick truss bridge. Ideally, the activity would take students 10 to 20 minutes to complete. Students are free to explore any activity during the event, and groups generally do not exceed 5 students at a time.
Please contact stem-expo@centralohioasce.com to register as an activity sponsor or submit questions.
Corporate Sponsors
Platinum Sponsor: HR Gray
Gold Sponsors: E.P. Ferris & Associates, Inc. / Kokosing Industrial Inc. / Stantec / Korda
Silver Sponsors: Strand / GCI / WSP | Parsons Brinkerhoff
Current Activity Sponsors
Feature Presentation by ABC 6/FOX 28 Meteorologist Phil Kelly
STEM is Elementary
Shocking Discoveries
Girl Scouts of Ohio's Heartland
WSP | Parsons Brinkerhoff
ms consultants, inc.
S&ME, Inc.
Columbus Zoo & Aquarium
BUGMAN Education
Elford
E.L. Robinson Engineering
National Association For Women in Construction (NAWIC)
Association for Bridge Construction and Design (ABCD)
Society of Women Engineers
HR Gray
Sylvan Learning of Columbus
Honda
American Soc. Of Heating, Refrigeration, and Air-Conditioning Engineers (ASHRAE)
Challenge Island
The Ohio Technology and Engineering Educators Association (OTEEA)
Franklin Soil and Water Conservation District
Bricks 4 Kidz
IBI Group
Carpenter Marty Transportation
The Knowing Place
ASCE Younger Member Group
DLZ
Schaefer / Structural Engineers Association of Ohio
Robot Academy
Chalmers P. Wylie VA Ambulatory Care Center (Columbus VA)
American Indian Science and Engineering Society (AISES)
Paul J. Ford Company
Infinite Impact
Math Plus Academy
Women's Transportation Seminar (WTS)